Young's Mayonnaise-
Pakistan's most liked taste
Young's Mayonnaise is a blend of vegetable oil, eggs and high quality ingredients.
It is an ideal dressing used to enhance the taste of salads, burgers, sandwiches and other continental / traditional food cuisines.
Glass Bottle: 300ml, 946ml
Pouch: 100ml, 200ml, 500ml, 1 Litre, 2 Litre

Young's Real Mayonnaise-
Pakistan's most liked taste
Young's Real Mayonnaise is a premium quality made with 65% oil base.
It gives real flavor to hot applications in burgers, sandwiches, rolls and making other dip sauces. It has a unique European taste with rich texture, creates the most appealing mouthwatering feel and increases the value of the food.

Young's Classic Mayonnaise-
Pakistan's most liked taste
Young's Classic Mayonnaise is a economical Solution of Real Mayonnaise used to give flavor to Zinger Burgers, Sandwiches, Rolls and anything dip Sauces.
Young's Classic Mayonnaise is ideal for reaching food products, especially for hot applications.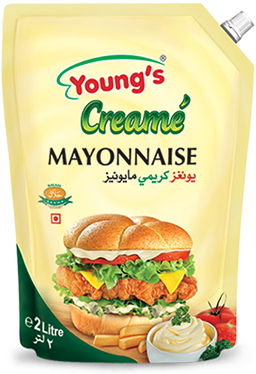 Young's Creame -
For the complete fast food experience
An economical creamy textured blend. Perfect blend for hot application such as burger, rolls, paratha,  shawarma.
Young's Mayo Dressing-
The dressing solution
Specially developed blend of Mayo to give unmatched taste and binding with salads and making your salad experience simply amazing. A perfect solution for salad dressing, sweet salad.
Mayo Maza-
Perfect blend, delighting taste
Specially formulated low fat mayo blend for developing Shawarma and Roll sauces.