Young's Beehives Honey -
The pure and natural solution for a healthy lifestyle
BeeHives is pure & natural bee honey collected from natural sources and hygienically packed.
It comes in unique packaging of glass jars, pouch, and squeeze bottle consisting of "Drip Free Nozzle" allowing to use honey as per the requirement.
Glass Bottle :125g, 250g, 500g
Pet Bottle: 1 Kg, 2.85 Kg
Squeeze Bottle packs: 170g, 250g, 450g
Pouch packs: 200g, 400g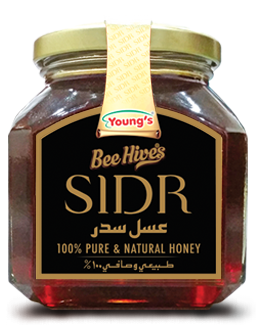 Young's Beehives SIDR Honey -

The premium quality honey
BeeHives SIDR is a premium quality honey collected from bees that feed exclusively on the nectar of wild SIDR tree (beri) flowers.
The taste of SIDR honey is considered to be a luxury and it is said to be rich and unforgettable.
Glass Bottle : 260g, 410g
Squeeze Bottle packs: 170g, 450g